J
ust watched the new and final episode of Doctor Who season 5 and, as season finales go, I was quite impressed. Without spoiling anything, attention is drawn to his suspenders and his bow-tie, both of which are fantastic. I am so happy that the modern Doctor Who has taken a change from a series rife with sexual tension in the companion to one that involves a boyfriend and girlfriend travelling with an eccentric alien. See, that was somewhat how the show originated. Except it was the Doctor's granddaughter and two of her schoolteachers. I wonder how that would play out today.
Alors
, summer is in full swing now, and our AC is working! Huzzahs are in order. Clothing is becoming more difficult to talk about, given that less is considerably better than more. I suppose I am in the minority when I saw that cargo shorts are overused and really not all that impressive. Everyone wears them, they have a bunch of pockets that make your legs look they're infested with tumors, and they all come in beige. The wonderful thing about shorts is that they're like pants but shorter. Hence the name. My own recommendation for summer wear involves chino shorts and fitted button shirts.
Seersucker, madras, club, really any short style that aren't named after Daisy Duke or have more pockets than anyone could fathom. Really, most of our pants don't have more than four pockets so why is it that in the summertime we suddenly need 12? What are we carrying?
Another option for shorts are cutoffs. No, not nevernude cuttoffs. Not daisy dukes. One of my favorite pairs of pants recently got sizable holes in the knees so I cut them down at the knees and made some well fitting shorts. At some point I'll get
Solanah
to hem them, but more likely than not I'll just wear them as is, because I feel like a pirate. Most of the shorts I have owned in the past five years have been cutoffs. I make less money in the summer but I want to stay cool. Scissors solve so many problems.
In closing I would just like to say that summer means less clothing but it does not mean less quality. Because you have fewer options it just means that the items you pick are going to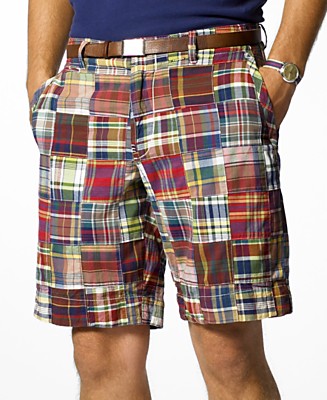 have to be more meaningful. Grab your favorite pair of shorts, combine them with a dress shirt and a fedora and you have a summer look that makes you look classy. If you happen to smoke a pipe well then...forget about it.